Sale by Months


(You guessed it Oatmeal will be on sale)
Christmas Items–Stock up on everything you will need for next year's celebrations at just a fraction of the cost. By January prices are usually anywhere from 75%-90% off. I buy all of my paper plates,cups, napkins this way and store them in a box for the next year. I also buy wrapping paper, bags, tags and tissue paper. Anything else that I think I can use for another holiday or reason throughout the year is also purchased at this time.
Toys—Check those clearance sales for toys you can give to your family members or your child(ren)'s friends. They are usually 50% off or more and that is a huge savings throughout the year if you just plan ahead.
Diet Foods- Anything that has to do with New Year's Resolutions is going to be on sale this month. Stack the lower sale prices with your coupons and you can stock up for a few months.
Medicines—Usually Cold medicines, cough medicines, flu medicines, and tissues among others. Stock up now while the prices are at their lows so that way you have enough to last throughout the year.
Super Bowl Sunday items like chips, wings, appetizers, dips, pop/soda will also be on sale this month. Stock up for those parties!!
February Sales items–National Canned Food Month so lots of items for your pantry should be on sale.
Canned fruits, vegetables, soup, pie fillings, tuna, chicken, salmon are just a few that I have seen this month.
Super Bowl Sunday–Always means a get together for us so anything for a party should be on sale. Pop, chips/dips, sandwich items, crackers, appetizer foods, wings, meat and cheese/fruit and vegetable trays
February is also National Hot Breakfast Month: Which in turn means lots of goodies will be on sale like oatmeal, Cream of Wheat, frozen breakfast foods, Mixes for pancakes/waffles, and of course sausages/bacon. We love sausage and bacon at our house, so I am definitely stocking up!
Valentine's Day: I stock up for the next year's Valentine's Day presents when they are 50%-75% off. Why pay full price if you don't have too!! Candy, Perfume, Cards, stuffed animals, gift sets, flower arrangements, candles, wines are usually on sale this month. Stock up now for next year.
Produce: Keep your eye out for produce that is "in" season. Heidi
March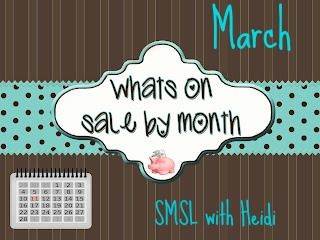 March always comes in like a lion, and out like a lamb. As a kid my mom told me after your birthday I promise it will start to warm up. Most of the time she was right, but there were a few birthdays I would have loved to be able to have a party outdoors. Since its the 6th of March that never happened, but that's ok because we now have a daughter who has one on the 17th and she can sometimes have parties outside. So the old adage in like a lion, out like a lamb usually holds true.
Now for the question of What's on sale in March?
Winter wear–Coats, Gloves, Hats, Scarfs, Overalls, Insulated boots Buy the next size up for your child now at deeply discounted prices so that way next winter you are ready and you paid a fraction of the cost.
Frozen Food Month–Since March is frozen food month, get ready for coupons and sales to stock up on all of those freezer items you eat all year. I try to stock up on things for a minimum of 6 months supply because by the next time I need an item, it should be back on sale.
Wedding Gifts–Since spring and summer usually brings upcoming weddings, stock up on things now so that you have them on hand. If I am invited to a wedding I usually just get the couple a gift card to a store I know they can use. That way they get what they want not something they may have to return.
Appliances-Air Conditioners, Washers and Dryers
Fish and Chicken and bagged candy are also on sale.
Luggage is also on sale this month!
Saint Patrick's Day items are also on sale, stock up for next year after the 18th to maximize your savings!!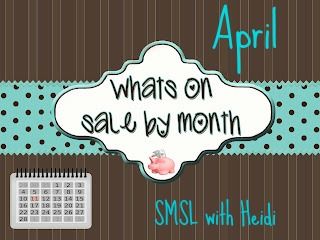 Items that are on sale in April include:
Computers–Computers also come out in spring so if you buy last years version of a computer you are saving $100's of dollars each time you upgrade (and you'll need the computer for your online budgeting!). We get a new computer every 3-5 years or so when we wear out one of them.
Digital Cameras–Summer is right around the corner and stores are making room for new cameras. Check for clearance prices or marked down camera's to save money if you don't have to have the latest greatest invention.
Spring clothing–Check those winter clearance racks and stock up for next year. This plan of attack saves my family $100's of dollars each year. We also add a few new pieces to each season just by finding things on sale for cheaper.
Travel Plans–Travel in the "off" season if you can it will save you money. Also book your motels and flights as much as in advance as you can. You will save hundreds of dollars by booking flights/hotels together or checking travel sites for the best deals.
Lawn Mowers-We try to buy them before Spring so the price is lower, but we haven't bought a new one in ages. Before everyone decides to start mowing your chances of getting a discount are still pretty good. But you will be getting last years version, so shop ahead of season.
Easter–hams, eggs, dyeing kits, candies, chocolates, baskets, decorations (I shop for the next years holiday after the items are on clearance.)
Earth Day– Organic Foods and Personal Care items, Energy Star appliances, CFL and LED lighting. I got some amazing deals on some organic things this year!!
Spring–gardening equipment and seeds, bird feeders, cleaning supplies and the dreaded allergy medicine will be cheaper because its soon to be in hot demand.
Seasonal Produce: Strawberries, Rhubarb, onions, peas, carrots, cabbage, beets, broccoli, grapefruits, mushrooms, avocados, asparagus and artichokes.
Baking supplies–sugar, baking mixes, flour, chocolate chips, refrigerated cookie dough
Seasonal Produce–artichokes, asparagus, avocados, beets, broccoli, cabbages, carrots, grapefruit, mushrooms, onions, peas.
May is a very busy month in my house every year. It seems like I wake up and its the first, I blink and then we are into June. May has lots of great items on sale and I try to stock up with enough to last me a year of the items I use a lot of.
Big ticket items that I've noticed have been on sale include: Mattresses, Patio furniture, and refrigerators.
Cinco de Mayo items: salsa, shredded cheese, tortillas, tortilla chips, canned and refried beans, shredded lettuce, pinatas, candy, frozen Mexican foods.
Mother's Day: bouquets, gift sets, perfumes, chocolates, photo frames, crafts, candles, and jewelry. Remember to shop after the holiday for the next year for lower costs. I won't tell your mom I promise!!
Memorial Day: Condiments, chips, dips, paper plates, napkins, silverware any of the goodies for picnics and outings!!
Gardening items: plants, flowers, seeds, water cans (I make my own), soil, weed killers >>>I buy all of this stuff at the end of the summer when its on clearance and save it for the next year.
Seasonal Produce: artichokes, asparagus, avocado, beets, carrots, corn, green beans, onions, potatoes, strawberries
Graduation party supplies (end of month)
Spring planting, flower bulbs
Winter clearance deep discounts now on linens, shoes, boots, jackets, coats, clothing etc
What's in Season?
cherries, okra, zucchini
rhubarb, artichokes
Asparagus, peas
Broccoli, lettuce, apricot
Pineapples, watermelon (toward months end) avocado, artichokes cauliflower, celery
radish, garlic, onions
leeks, beets, turnips, carrots, onions potatoes, spinach
Lemon, red grapefruit
orange, apricots, kiwi
mango papaya, d'anjou pear, strawberries
Things to Do in May
Look for free events in your area; May 4th free comic book day
May 10th National public gardens day
Remember to schedule your little ones for free events like the Lowes Build and Grow or Home Depot
Harvest buttons and shoe laces off of shirts and shoes that are unusable and can't be donated (save for another use, pair of shoes etc)
Hit yard sales for things you need and schedule a yard sale to get rid of unwanted stuff
Challenge your family to a weekend of "no spending"
National Holidays
1 May Day
4 Star Wars Day
5 Cinco de Mayo
6 National Teacher's Day
8 VE Day, WW II
12 Mother's Day – second Sunday
18 Armed Forces Day -third Saturday
24 Victoria Day (Canada)
27 Memorial Day
What's on Sale in June? June sale items are things that you want to stock up on. Many items are on sale this month and I try to buy at least 6 months worth of items for my family. That way I am always buying items at their lowest price and maximizing my savings.
National Dairy Month so things like milk, ice cream, cheese, butter, eggs, yogurt are on sale
Fourth of July Sales start at the end of June: hot dogs, hamburgers, buns, condiments, charcoal, chips and dips, frozen treats and pop just to name a few.
Seasonal Produce: anything I can purchase at a low price and home can or freeze I do. I also buy a lot of extra fruit so I can make jams and jellies for Christmas.
Summer needs are on sale, but not at their lowest prices. If I have to buy anything I buy just enough to make it until the end of the season, then I stock up when the prices are at their lowest.
Gardening items are usually on sale as well, but again I buy enough to get me through until the prices drop.
Clearance I found this year included jackets, sweaters, umbrellas, rain boots, floral wreaths from Memorial Day
Happy Shopping!
July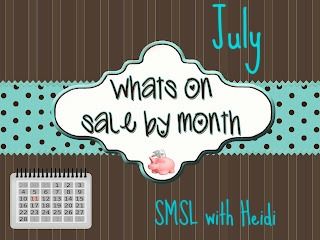 July is a busy month because it is National Ice Cream month, summer is in full swing and let's not forget the 4th of July Holiday. Those are just a few of the great items that will be on sale this month. You want to stock up on things when their prices are at their lowest so you keep as much of your cash as you can.
Back to School sales begin so be on the lookout for crayons, pencils, folders, binders, notebooks, pens, scissors, backpacks, rulers, calculators and markers. Bic usually has a good coupon out this month as well that allows for free pens at Walmart!! Make sure you take advantage of tax free shopping weekends as well. List to come for that soon!!
July 4th bargains include: BBQ sauce, charcoal, hamburger, hot dogs, dips, buns, ketchup, mustard, Mayonnaise, relish, marinades, paper products, potato chips, salad dressing, drink mixes and soda. I buy enough in July to last my family for a year. That way we always have it on hand and I know I'm getting the rock bottom prices. Flags and Fireworks are always on sale too, and after the holiday check out those clearance aisles for decorations for your next get together at a fraction of the cost.
Seasonal Produce: Apricots, Basil, beets, bell peppers, blueberries, carrots, cantaloupe, cauliflower, celery, cherries, corn, cucumbers, eggplants, figs, garlic, grapes, green beans, honeydew melon, nectarines, peaches, pears, plums, potatoes, raspberries, red and white onions, oranges,strawberries, summer squash, tomatoes, watermelon
National Ice Cream Month: Ice cream sandwiches, frozen novelties, ice cream, ice cream makers and rock salt, ice cream cones–I bought a lot of ice cream mixes on clearance last year for under $1 a bag!! Check those clearance sections, it pays off, I promise!!
Camping Gear: Tents, Dutch ovens, sleeping bags, lanterns, hiking boots, coolers, air mattresses, fishing gear, headlamps, portable cooking stoves, first aid kits, water bottles and filtration systems. Check your local Garage Sales as well, I bought all of our camping items this way!!
Summer Essentials include: Sunscreen, Bathing suits, summer clothing, flip flops, bug spray, patio furniture, outdoor lanterns, Citronella products, anything "warm weather" related should start to decline in price. Gardening stuff also tends to take a price cut as well.
Do you know of something that is on sale in July that I didn't list? Be sure and let me know so I can add it to our list!!
Augusthttp://lifewithheidi.com/2012/08/whats-on-sale-in-august.html
September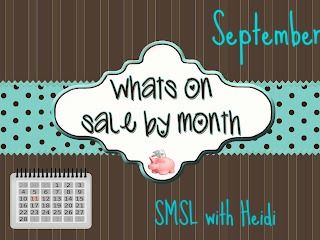 September Sale Items–Stock up while you can
September is almost gone but there is still time for you to stock up on September sale items!! There are lots of goodies on sale during the month of September and I've already been shopping!!
Bicycles-Buy them now while kids are heading back to school. Keep them for the next holiday or birthday to lower your cost out of pocket.
Camping gear- Tents, sleeping bags and other goodies you need when you go camping. (We always say we are going to go camping but never quite make it out there.) But when or if we decided to we have a tent, sleeping bags and lots of other camping essentials ready to go!!
Cars–New models are hitting the showroom and the prices are being cut on the older models. *We need a new car but I don't want a payment so we are babying ours along till we can pay for it out of pocket. I don't want to have to pay interest on something for a few years.
Lawn Care Equipment–Mowers, power washers, and things such as that. Wal-Mart had rakes on sale yesterday when I was there which I thought was surprising.
Celing fans–We use ours year around to help save money but if you are in the market for one, now is the time to purchase.
Outdoor living- Patio furniture is at there lowest prices after Labor Day Weekend. Try to hold off purchasing them until this time of the year
Back to school sales- paper, pencils, backpacks, erasers, folders, markers, notebooks, crayons, boxes of tissues, disinfecting wipes and hand sanitizer.
Make sure and stock up on produce that is in season as well. There are always farmers markets around here that offer the lowest prices.
Labor Day items-any thing barbecue related are usually on sale at this time as well. Stock up enough to last you 6 months to a year.
Each month of the year has special items on sale. You need to be a savvy shopper in order to snag the best deals, but you can get some great things for a lot less. I always shop for the next year after the holidays, end of the seasons, and clearance shop. It saves my family a lot of money over the course of year. It does take some planning ahead and getting used to, but you can do it!!
Large appliances–negotiate to get the best price on last year's model before the holiday craze hits.
Bridal registry items are often 50% off so stock up now while the price is low so you are ready next year with presents you won't have to pay full price for them.
Summer inventory like pool items, beach items, air conditoners, garden and camping items. (We are looking for a great deal on air conditioners.)
Fire pits are also on roll back at Wal-Mart, I saw them yesterday. Don't forget those summer games like Redneck Golf, Bocce ball and other yard games are also on clearance at this time as well.
Grocery items like Pizza, popcorn, seafood, all on sale. October is National Pizza month as well as Popcorn-popping month and Seafood month. Stock up on those items to last you a good few months. My rule of thumb is 6 months of items when the price is at it's lowest.
Clothing items for summer are now on mark down you need to snag them up for next year. Guess about a size for each child you have and pick them up entire summer outfits for just a few dollars. Shirts and things also make great presents for nieces/nephews, grandchildren and etc.
November Sale Items

November Sale Items are a must have this time of the year!! Each month I try to post what is on sale for the month so you can get your shopping lists made out. Take inventory of what is in your stockpile and be prepared for when the sales are available.
The biggest thing I stock up on in November is Halloween items. While shopping I check out candy, treat buckets, costumes, fun items and just anything for Halloween. I buy the stuff I will need for the next year's Halloween a year ahead of time. I store them all in a tote marked Halloween and I never pay more than 50% for anything I need. Candy can be used for Christmas stockings, goodie bags and baking. Yesterday I bought paper plates for $1 a package at Walmart!!
The baking season is upon us and so anything like nuts, chocolate chips, evaporated milk, sweetened condensed milk, coconut, chex mix items and of course the easy to prepare baking mixes.
Canned soups and broths are also on sale this month. Last November I was able to buy canned goods for 15 cents a can!! Fruit and pasta sauces are also good staples to stock up on this month. I buy enough for my family for 6 months to a year at a time.
Holiday staples like turkey, pumpkin, stuffing mix, potatoes, rolls, pies, and anything you need to produce a good holiday meal will be on sale this month as well. I've posted lots of under $1 items for Walmart this week so make sure you grab those!!
Check those clearance sections for the last of outdoor furniture, rakes and leftover summer items. This is a great time to buy new items becasuse they want room for their Christmas items.
Black Friday and Cyber Monday are also great times for some amazing deals!! I'm not a big Black Friday shopper, but Cyber Monday I hit pretty hard. Make sure you sign up for notifications of your favorite websites and stores to be among the first to know!! STICK to your list!! They want you spend your hard earned money on the items in their store. If you just stick to your list, you will maximize your savings.
Produce like: Apples, beets, broccoli, Brussels sprouts, cabbage, carrots, celery, cranberries, kiwis, lemons, oranges, pears, pomegranates, potatoes, pumpkin, squash, yams are all on sale. Stock up and can, freeze or dry what you can to save your families budget.
Cold and Flu season is upon us so things like Cough drops, flu/cold medicine, tissues, and lip balm are at their lowest prices. Stock up for a year if you can.
What's on Sale in December?
December found here
What's on Sale in December? There are lots of goodies on sale this month!! Stock up for at least 3 months unless it is free I stock up for a year!!
Canned & Baking Goods. These items should continue as holiday baking and cooking continue!
Oranges/Nuts–The old time stocking stuffers growing up we always had both!
Cold/Cough Remedies–It is that time of year so make sure you stock up. Cold syrups, cough drops, cough syrups and so much more!!
Batteries. With all the toys and electronics, deals on batteries can be found. Stock up!
Photo Deals. Continue to keep a watchful eye for promotions on photo books, and prints.
Seasonal Produce: Apples, beets, broccoli, Brussels sprouts, cabbage, carrots, celery, cranberries, kiwis, lemons, oranges, pears, pomegranates, potatoes, pumpkin, squash, yams, diabetes items.
Spaghetti Sauce–Usually Ragu is the one I find the cheapest.
Amazon. Last year, Amazon
was slashing prices right up until Christmas Day!
Walgreens 4-Day Sales. Throughout December, Walgreens will run a "4-Day Sale" in conjunction with their 7-Day ad. These run from Wednesday – Saturday.
Christmas Clearance--Always shop the after Christmas sales I like to go about 4 days after the holidays when prices are at 75% off and sometimes more depending on the store. I bought lots of great items last year that cost me 1/4 of the price and they are waiting to be wrapped to be placed under the tree. I should have some happy people on my list!!