Every Super Mom Needs Jewelry
*This post is a sponsored post in conjunction with 7 Charming Sisters, however as always opinions are 100% my own.
Jewelry is something that as moms we don't always take the time to purchase, wear or even attempt to accessorize for the most part. I know there are moms out there that dress to the nines for the car pick up lines, but I have never been that mom. I was doing well to get to the pick up line on time when it was one of my daily mom duties, but as time has moved on things change. LOTS, each year brings on a new set of challenges and before you know if your kindergartner is graduating from high school. Each year is as precious as the first and we do our best to mold our children into responsible adults.
It is HARD work and each year of our children's lives is a new set of challenges for us as parents to conquer. Don't get me wrong I loved being a parent, and I'm still a parent (although now an "Empty Nester".) I've learned a few things over the years.
Take time for You
Take time for you because if you don't take care of yourself, you can't be a good caretaker. We as moms know this, but often times our kids come first, been there done that and have the t-shirt. While I'm not sure I would have changed a lot of things I did, I would change a few of them. One of the things that I did was justify not spending money on myself. Liz always got something she "needed or wanted" or something I thought that would be perfect for her. Years later I've learned that as moms we have to spend money on ourselves because we deserve it. Your child(ren) don't need a new toy, new outfit or the things they will "love" every time you head to the store. I know you will carry a little bit of Mom guilt with you, but trust me the Mom guilt will still plague you even after you become an empty nester.
I can't accessorize
Yes, I've used the excuse I can't accessorize for my lack of jewelry over the years. I have a few fun pieces that I bought but more often than not they sit in the jewelry box untouched because they don't match the outfits I wear. Accessorizing is easy with the help of 7 Charming Sisters because they have it broken down into an easy to navigate system that allows you to find your perfect style. Don't believe me? Check out their Style Quiz to help you find your perfect style. I was shocked that I fell into the "Super Mom" Collection
But the best part is that there are other fun personalities that you can shop as well, including:
All American Girl I have a love for turquoise and my friend Becky and I are always joking about being peas in a pod. So this ring fit both of our personalities and we will both be rocking these rings daily to help us make it through the day when we aren't together. The Amazonian Scarab Turquoise Knuckle Ring is the perfect piece out of the Kimberly All-American Girl style. I also picked the Give a Hoot Silver Turquoise Owl Pendant Necklace because who doesn't love owls to dress up a comfy jeans and black shirt day!
Life of the Party If you are a life of a party girl check out this Owl Necklace, it is Silver and Crystal and on my wish list for the next order I place. Affordably priced at $15 I'm sure it will fit most anyone's budget. But the one below is the one I picked up off of the sale section because I do love owls and of course turquoise if you hadn't noticed that pattern.
The other two pieces I received also came from the Life of the Party Line and it included this Golden Strands Layered Gold Chain Necklace and a Cross Heart Bangle Bracelet. I will admit that the bracelet I ordered so I could give it to Liz as she loves anything with a cross on it and you know even though my nest is empty, I still think I should spoil her (check out that mom guilt!) The other piece was the Golden Strands Layered Gold Chain necklace that will dress up any outfit I pick to wear with it. My only "complaint" about that one is that it gets easily twisted but let's be honest, I think that is user error because being graceful isn't a skill that I always possess.
Social Butterfly has some fun pieces, but I couldn't find anything that screamed buy me in this one. But I am more of an awkward butterfly instead of social. I did think that some of the turquoise pieces were gorgeous like the Wow The Crowd Necklace below, but it wouldn't be something I would wear around the house.
Sexy Nerd is a collection of bright colors as well as preppy sophistication that someone is sure to love. There were a few pieces in there that I considered, but opted for things that were more my style.
The Executive includes Timeless looks and elegant styles to compliment trendy styles.
Super Mom Because that was my "style" I went with the above set. It is simple yet elegant and is fittingly called Family First". The set is only $50 which makes in not only stylish but affordable as well. The last piece I decided to purchase was the Do it Rose Colored Crystal Link Pendant because it was gorgeous. But not only that, it will go with several outfits making it the perfect accessory to have.
Fashionista is for all of you that keep up with the latest greatest trends, and I envy you. You all are rockstars, but that is my fish out of of water style and it probably wouldn't be to pretty. But no matter what your style the 7 Charming Sisters syncs with your jewelry style, I promise!
About 7 Charming Sisters
7 Charming Sisters not only sells trendy jewelry, but also delivers a lifestyle experience based on the behind-the-scenes fun they have everyday. Although it is a fun studio to work at one might think they are all play, but they are able to work and have fun which is an amazing atmosphere. They also employ people who have disabilities to work in their studio. Some of their handmade jewelry is also made by people with disabilities and they then earn commission from each of their items that sell. 7 Charming Sisters has an amazing array of jewelry to fit everyone's style, shipping time was minimal and the customer service was fantastic.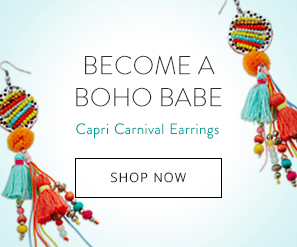 I would like for you to put your Mom guilt to the side and buy a couple pieces of jewelry that will match with your outfits. I was amazed at the wide selection of products they have available at affordable prices. Which of the featured pieces would you like to add to your collection?