I received products in exchange for this post, however, as always opinions are 100% my own.
Affiliate Disclosure: We work with a variety of different affiliate companies. This means that we will receive a small compensation if you purchase from one of our affiliate links. This will not affect the price of your item(s). As an Amazon Associate, I earn from qualifying purchases. If you wild like more information please check out our Disclosure Policy.
Nick Jr: Fantastic Fall
Bring on the pumpkins, fall is just around the corner and I for one am ready. While I hope the old man winter stays away for a few more months! But that is another story for another day, today we are talking about Nick Jr: Fantastic Fall. This fun-filled DVD will be available to bring home to your house on September 22, 2020. It is packed with fun-filled episodes including Paw Patrol, Blaze and the Monster Machines, Bubble Guppies, Butterbeans's Care as well as Blue's Clues & You.
Keeping the kids entertained will be a piece of cake with this fun filled DVD. The boys favorite was of course the Paw Patrol episode, but My personal favorite was Butterbean's Cafe.
The DVD release lets fans join their favorite preschool pals on awesome autumn adventures. The Nick Jr.: Fantastic Fall! DVD will be available from Paramount Home Entertainment and Nickelodeon Home Entertainment on September 22, 2020.
Nick Jr.: Fantastic Fall! episodes:
PAW Patrol: Pups Save Thanksgiving
Blue's Clues & You!: Spooky Costume Party with Blue
Blue's Clues & You!: Thankful with Blue
Blaze and the Monster Machines: Truck or Treat!
Bubble Guppies: Trick-or-Treat, Mr. Grumpfish!
Butterbean's Café: Fairy Happy Thanksgiving!
Nick Jr.: Fantastic Fall! synopsis:
The season filled with tricks, treats and thanks, is upon us! Help Josh and Blue figure out what Magenta wants to be for Halloween. Blaze and AJ are excited to "truck or treat," but Crusher tries to steal their candy! Then, it's time to give thanks as Josh plays Blue's Clues to discover what Blue is thankful for. The PAW Patrol pups rescue Mayor Humdinger and his kittens from a bouncy Thanksgiving turkey. And The Bean Team shows Ms. Marmalady what Thanksgiving is all about. All of these adventures and more add up to one fantastic fall!
Nick Jr.: Fantastic Fall! fast facts:
Street Date: September 22, 2020
Catalog: 59212484000 (US)
Running Time: 1 hour, 54 minutes
Audio: Dolby Digital English 5.1, French Stereo, Spanish Stereo ("Blue's Clues & You" episodes available in English only)
About Nickelodeon and Paramount Home Entertainment
Nickelodeon, now in its 41st year, is the number-one entertainment brand for kids. It has built a diverse, global business by putting kids first in everything it does. The brand includes television programming and production in the United States and around the world, plus consumer products, digital, location based experiences, publishing and feature films. Nickelodeon and all related titles, characters and logos are trademarks of ViacomCBS Inc. (Nasdaq: VIACA, VIAC).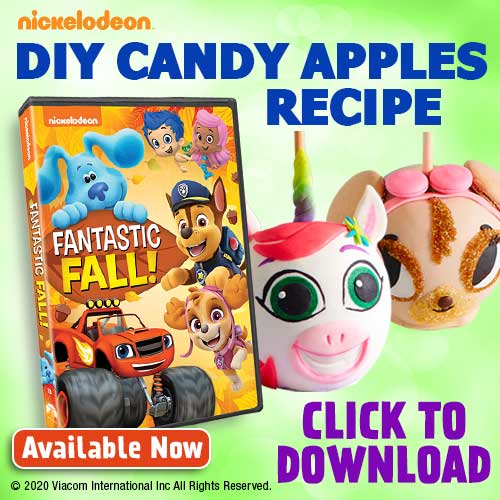 About
Paramount Home Entertainment (PHE) is part of Paramount Pictures Corporation (PPC), a global producer and distributor of filmed entertainment. PPC is a unit of ViacomCBS (NASDAQ: VIAC; VIACA), a leading content company with prominent and respected film, television and digital entertainment brands. The PHE division oversees PPC's home entertainment and transactional digital distribution activities worldwide. The division is responsible for the sales, marketing and distribution of home entertainment content on behalf of Paramount Pictures, Paramount Animation, Paramount Television, Paramount Players, MTV, Nickelodeon, Comedy Central and CBS and applicable licensing and servicing of certain DreamWorks Animation titles. PHE additionally manages global licensing of studio content and transactional distribution across worldwide digital distribution platforms including online, mobile and portable devices and emerging technologies.