This post is in partnership with Catholic Central, however, as always opinions are 100% my own.
Old Fashioned Christmas Fun
Growing up in the 80's and 90's we were the lucky ones in a lot of ways. We didn't really think of it as lucky back then, but it was before technology was at our fingertips 24-7. Coming from a family with 3 siblings our house was always full of kids, neighbors, or even a few that might as well been adopted. We spent countless hours exploring the outdoors, riding horses, working hard alongside my Papa on the Christmas tree farm (year around). But one of the things that we did the most was play games. We had lots and lots of games as well as cards.
We grew up playing old classics like Monopoly, Life, Clue, Sorry, Checkers, Hungry Hungry Hippos, and Marbles (which is still a family favorite.) We played card games like Pitch, Uno, Skip-Bo, Go Fish, Rummy, and Hand & Foot. Other favorites included Mancala, Trouble, Chinese Checkers and let's not forget Dominos. While some of them are games you can buy at the store, some only use a deck or several decks of cards, but no matter what game we played we had hours of fun.
The love of games continues today and has continued as all of the siblings have moved on, gotten married, and started families of their own. But on Thanksgiving and Christmas after the big meals have been eaten we spend the rest of the day playing a variety of games. There are literally games going in every room of the house because our family now consists of thirty people ranging from ages 2 months (Elijah the grandson!) to 67 years old and every age in between. The breakdown goes like this:
Infant-1, One 6-year-old, Three that are 8 years old, One 9-year-old, 3 that are 10 years old, 3 that are 13 years old, One 16-year-old, One 19-year-old, One 20-year-old, One 21-year-old all for the "kids" or kids that have now transitioned to young adults.
Then the siblings and their spouses are One at 43 years old, Two at 42 years old, One at 39 years old, One at 36, Two at 37, One at 32 years old, One at 31 years old. If you have been following the math you noticed we had an extra number and that is one of the cousins who might as well be a sibling along with the siblings/spouses.
And it all started with the 'elders' who started the gaming traditions and they are 62 years old, 67 years old, 60 years old, and 51 years old. WHEW! That was a brain work out, but I'm thrilled to say that this is my 42 year of the Classic Christmas Gaming Tradition.

But this year we are going to start a new tradition and get together with my nieces and nephews to play some "Classic" Games over the weekends as we head into the holiday season. There is nothing better than spending quality time with family and friends and we are going to make these game nights "technology" free and just live in our 80's & 90's flashbacks.
Some of the classic games we played during our technology free night included, Trouble, Apples to Apples, Pictionary, and Uno!
Looking for new Christmas Traditions?
If you are anything like me, adding new Christmas Traditions is always fun and this year we are going to try a few! Tune in on Instagram to see them unfold!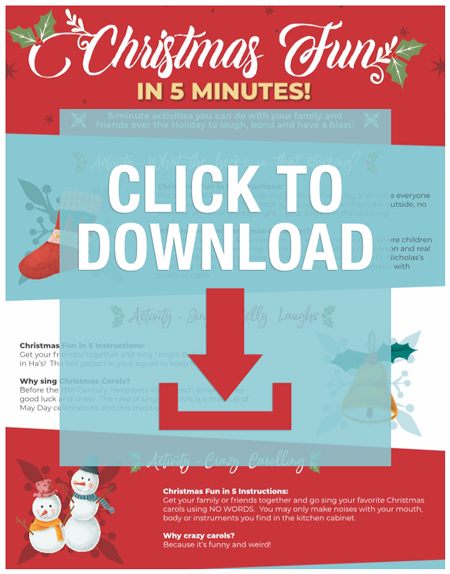 The above download contains super fun 5-minute activities you can do with your family and friends over the Holiday to laugh, bond and have a blast! It also includes some cool facts about the "whys" and history behind some of the most time-honored Christmas traditions!
About CATHOLIC CENTRAL:
You have questions about the Catholic faith and what it means to be Catholic. We have answers. Using a team of witty writers, appealing hosts, and even some learned theologians, we've created shareable, snackable videos that teach the timeless truths and deep history of the Church with humor and heart. Produced in the Family Theater Productions studios on Sunset Boulevard in Hollywood, CATHOLIC CENTRAL entertains, enlightens and inspires.
Giveaway