Valentine's Day Cards from Dreamworks Animation
Spread some love this weekend with DreamWorks Valentine's Day Cards featuring your favorite characters from Dinotrux, The Mr. Peabody & Sherman Show and Dragons: Race to the Edge. Ty Rux, Revvit, Skya, Hiccup, Toothless, Astrid, Mr. Peabody and Sherman are here to help you let your friends know how dino-mite and pawsome they are!
Just ahead of Valentine's Day here are some printable Valentines that you can share with your readers! Who needs to buy Valentines when you can have cards as AWESOME as these!?


About Dinotrux
Welcome to a world of giant creatures that are half dinosaur, half construction vehicle and all awesome in DREAMWORKS DINOTRUX! Meet Ty Rux, a massive Tyrannosaurus Trux, and his best friend Revvit, a razor-sharp Reptool. Together, the Dinotrux and Reptools join forces for the first time ever to build a bigger, better world and battle back against the biggest and baddest of them all: D-Structs, who threatens to wreck everything they've built.
About Dragons: Race to the Edge
Dragons: Race to the Edge tells the action-laiden story of what happens before How to Train Your Dragon 2, as Hiccup and Toothless explore an amazing world that they always imagined, but never knew, existed beyond the borders of Berk.
About The Mr. Peabody & Sherman Show
Mr. Peabody, the smartest dog in the world, and his boy Sherman host a zany late-night comedy show broadcast from their swanky penthouse in front of a live studio audience. Anything can happen in this show jam-packed with exciting segments, great musical acts and very special guests like outrageous neighbors and hilarious time travelers they meet with the WABAC machine!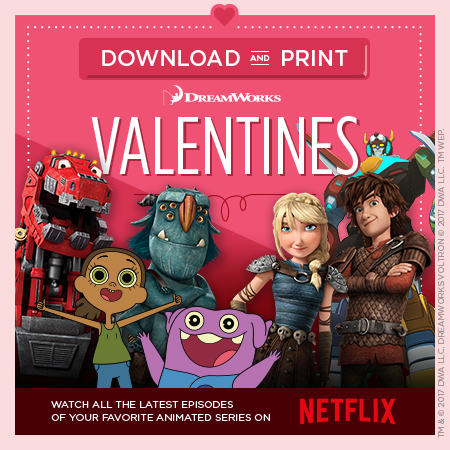 Download them all today by clicking the picture above or the link below. Print them out and deliver to your family and friends. Happy Valentine's Day to you and yours from Dreamworks and Life with Heidi too!
Be sure you download the DinoTrux App, whip up some exploding ore cupcakes, and some Ty-Totally Cherry drink to sip on! Then send the kids home with some Ore to munch on after the party!
Be sure to tune into Netflix to start Binge Watching this awesome show now!