Voltron Season 2 Now Streaming on Netflix
DreamWorks Animation Television and Netflix Announce Season 2 of DreamWorks Voltron Legendary Defender
About Voltron Legendary Defender Season 2
Following the season one cliffhanger, Team Voltron has been scattered throughout the universe in the aftermath of a perilous battle with Zarkon, Haggar and the evil Galra Empire. Working to bring the lions back together to form Voltron again, the Paladins' plan to defeat the Galra once and for all takes them across the universe in search of new worlds and unexpected allies. Find out if their plot to take down Zarkon succeeds when Season 2 of DreamWorks Voltron Legendary Defender is now streaming on Netflix.

Free Door Hanger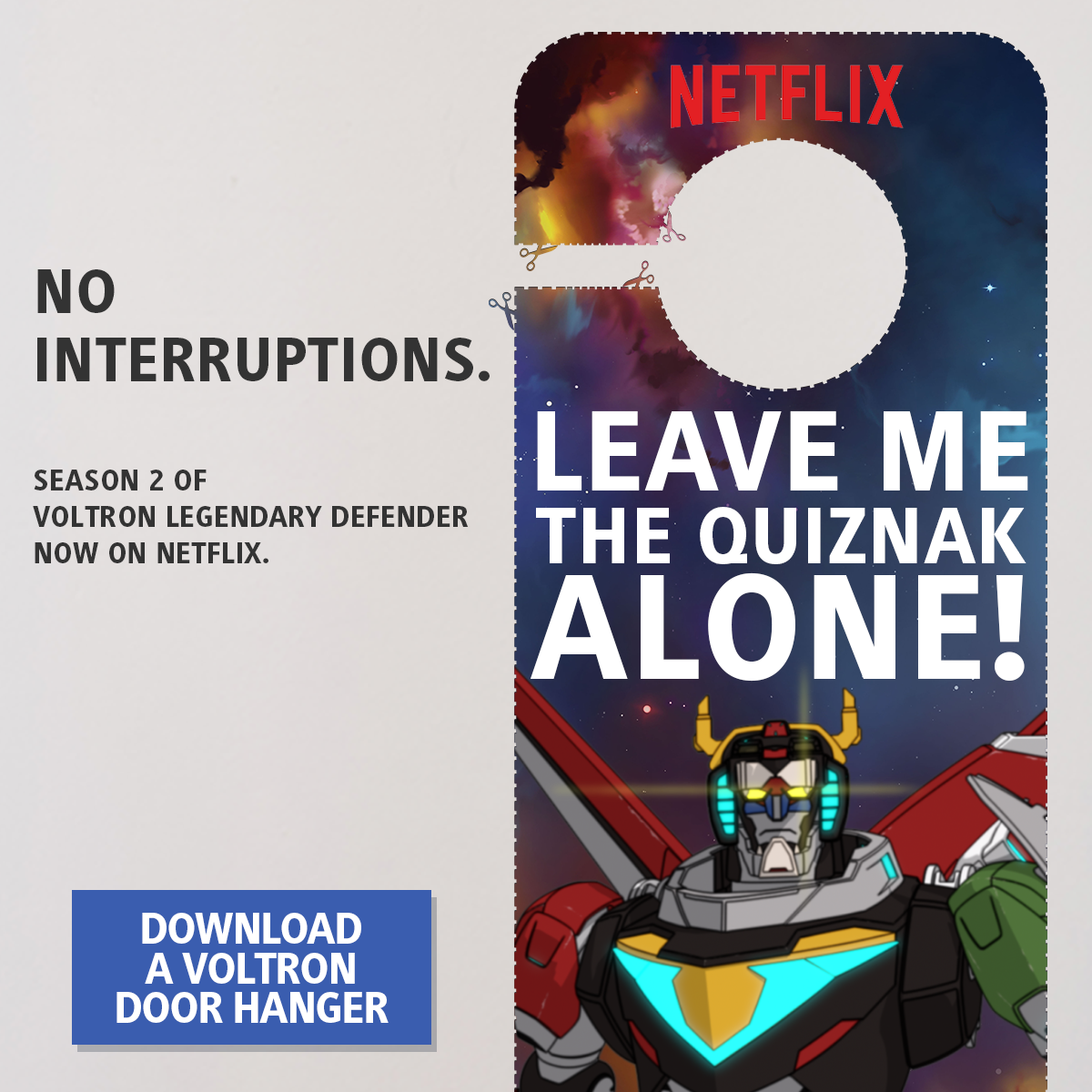 Season 2 of Dreamworks Voltron
The universe's greatest protector will rise again! In celebration of the fan-favorite sequel DreamWorks Voltron Legendary Defender Season 2 coming to Netflix onFriday, January 20th, DreamWorks Animation Television and Netflix have released a brand new clip!


About DreamWorks Animation Television:
DreamWorks Animation Television is one of the world's leading suppliers of high-quality, animated family programming, reaching consumers on linear and on-demand platforms in more than 130 countries and garnering 31 Emmy Awards to date. It is a division of the Universal Filmed Entertainment Group (UFEG).
Executive Produced by Joaquim Dos Santos
Co-Executive Produced by Lauren Montgomery
Written by Tim Hedrick
Voltron Masks
Cast:
Princess Allura – Kimberly Brooks (Ben 10: Omniverse, Justice League: War)
Coran – Rhys Darby (What We Do in the Shadows, Flight of the Concords)
Shiro, Black Lion – Josh Keaton (Green Lantern: The Animated Series, Transformers Prime)
Hunk, Yellow Lion – Tyler Labine (Reaper, Tucker & Dale vs. Evil)
Lance, Blue Lion – Jeremy Shada (Finn in Adventure Time, Batman: The Brave and the Bold)
Pidge, Green Lion – Bex Taylor-Klaus (Arrow, Scream: The Series, iZombie)
Keith, Red Lion – Steven Yeun (The Walking Dead, The Legend of Korra)
SEASON 2 OF DREAMWORKS VOLTRON LEGENDARY DEFENDER PREMIERES JANUARY 20TH, ONLY ON NETFLIX!
Voltron Pumpkin Stencils
voltron_meowchow_recipe
More fun Voltron Activities!